SculptICE® Body Sculpting ICE by Ania Botero are natural products made of a precise combination of herbs, essential oils, and other natural ingredients, that together promote the disolution of adipose tissue in the body.
Body Sculpting Herbal ICE
In addition, SculptICE® helps to mold, reduce, and tones the skin, by promoting the natural production of collagen and elastin in the body, improving the elasticity and tonicity of the skin.
Among other benefits this product helps individuals presenting early stages of fat accumulation, all the way to extreme cases of obesity or for those that simply want to reaffirm the skin in specific areas of the body.
Detox your body
Helps restore skin elasticity
Reduce cellulite
Breaks down stubborn adipose tissue
Activates lymphatic system
Sculpts your body
100% natural treatment
Result are progressive
No surgery
Visible results since application one
The revolutionary ICE THERAPY by Ania Botero™ provides proven lasting results, by activating the body's natural process of fat elimination through a process known as Thermo-genesis, that essentially transform fat into energy.
Some other products in the market offer temporary results by eliminating water or muscle mass, resulting in disappointing bounce back effects for the consumer.
In the contrary, SculptICE® focuses in the elimination of fat tissue, creating satisfactory and long lasting permanent results.
The Body Sculpting Massage therapy results have a tendency to slightly vary for different people, since each person has a unique organism that reacts differently to the activation of the Thermo-genesis natural process.
*Results may vary based on lifestyle and balanced nutrition.
SculptICE® Transformations
SculptICE®#iceMEcoffee is a lotion made of calming herbs, coffee extract and coffee's active ingredients.
#iceMEcoffee promotes the natural thermogenesis process of our body and targets cellulite; breaking it down fat and improving its appearance.
Say Good-Bye to Cellulite
Improves Hyperpigmentation
SculptICE® #iceMEstrawberry is formulated with a blend of calming herbs, essential oils, aloe vera and strawberries. Nourish your skin with our SculptICE® #iceMEstrawberry leaving your skin feeling soft and smooth.
Envelop yourself in pure decadence of strawberries!
Rich source of vitamin C, K and antioxidants
Maintains healthy and glowing
Promotes cold thermogenesis
Exfoliates dead skin cells
Lighten pigmentation and acne marks
SculptICE® #iceMEwine is formulated with a blend of calming herbs, grapes, essential oils, and red wine.
The richness of grapes and wine combined with a relaxation body treatment, SculptICE® #iceMEwine leaving your skin tone, rejuvenate and detox.
This luxury ice treatment  is ideal to revitalize your skin.
Breaksdown adipose tissue
Boost collagen and elastin production
Activates lymphatic system
SculptICE® #iceMEmoroccan is the perfect blend of calming herbs, essential oils and moroccan clay. Ideal to revitalize your skin and tighten.
Among other benefits serves as an excellent cleanser and moisturizer.
Suitable for sensitive skin
Exfoliates & refines rough skin
Removes waste, impurities and dead skin cells
Enhance blood circulation
Stimulates elastin and collagen production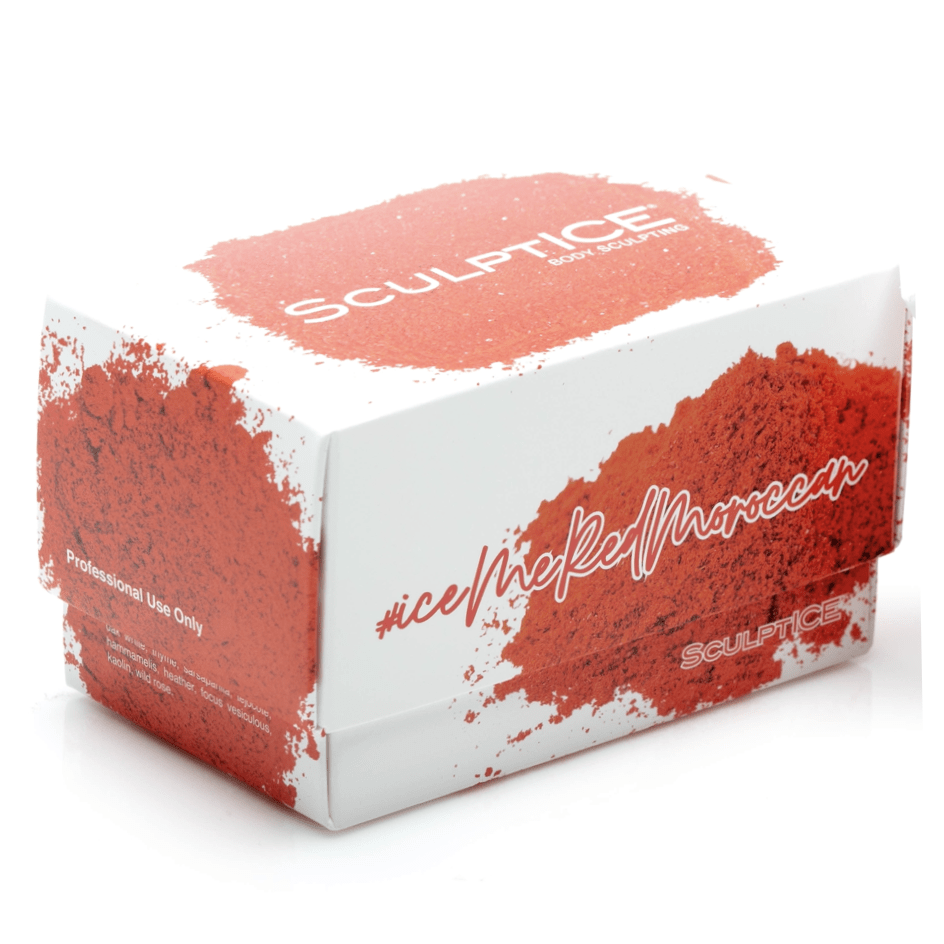 SculptICE

® #iceMEcharcoal
 made of herbs, aloe vera and activated charcoal to absorb impurities. Naturally deep cleans and gently exfoliates dead skin cells without drying the skin.
Has antibacterial, antimicrobial, antiviral and antifungal properties making it a great choice for acne prone skin.
Absorbs toxins from your skin
Gentle enough for all skin types